Software Sign Language Lab and American Sign Language (ASL)

The Software Sign Language Lab makes learning sign language and American Sign Language easier and more effective with the software solution with the dual screens on one monitor allowing a student to open the source video file and simultaneously record signing and/or speech without the need for additional software.

The Software Sign Language Lab is our unique software only solution and is a cost effective module developed and designed as a stand-alone system. The software can be installed on one computer or in an entire computer lab. This Sanako Sign Lab can be used in the classroom or at home for self-study. All that is required is a computer with internal or external webcam.

The Software Sign Language Lab plays all current file formats for both video and audio files.
How to teach & use the Sanako Sign language & (ASL) software
The Sanako sign language software has capability to record video only, speech only, and audio with video. Stream content from the internet or open video files saved on a server or PC. Add a third PIP (Picture in Picture) window to add a third dimension to viewing and recording signing with this new standalone sign learning solution. PIP allows you to view your recording in a third PIP window without having to synchronize the videos and recordings. For a larger view, select one of the dual screen's to enable a full screen view. Synchronize both video windows to play back simultaneously to assess work against the original source. Hide your image while recording or select only a single window. Add short subtitles to appear at the bottom of the video for text and naming of. Select a mirror image to reverse the camera view. Stream the tutor camera over the network to one or all students.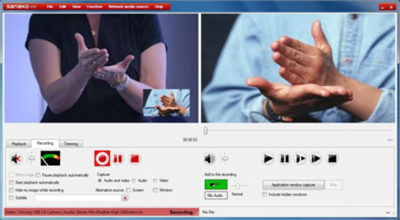 The Sanako Sign Lab is a cost effective module that is designed for ease of use in teaching all signing language.

Please take advantage of our no obligation evaluation of the Sanako Sign Language to thoroughly test the features and function of the software in your own time at your own pace.

The Sanako Sign Lab can be added as a module to the Sanako Study 700 or the Study 1200 language lab.
Interested in teaching signing language and ASL with Sanako Sign Lab?